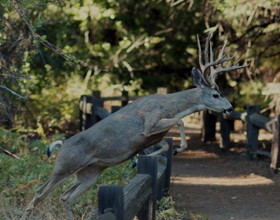 Create a garden fortress with a
deer-proof fence
Has your garden ever been ruined by a gang of stags? If so, you know how devastating it can be to pour your heart and soul (and wallet) into gardening only for the animals to come along and snack on your hard work. With a good deer fence for the garden, you can keep intruders away without having to check your lawns and flowerbeds every hour. As a barrier, it is strong enough to fend off even the sneakiest bucks and let in air and sunlight for your plants to thrive.
What is a
deer-proof fence
?
A deer fence, sometimes referred to as a deer exclosure, is a fence that is designed to keep deer out of an enclosed area. Deer fencing is effective at keeping deer out of areas of all sizes, from small backyard gardens to entire farms and estates. The amount of deer pressure your property is under also determines the right Deer Fence USA product for you.
A deer fence for sale can be made of wood, metal, plastic, or a combination of the three. Each fencing type has its own set of advantages and drawbacks, so it's important to take this information into account in order to determine the best type of deer fence for your property.
You will need fencing, posts (natural or man-made), access gates, and fasteners to install your gate properly. We sell everything you will need, from the individual pieces for those who know what they want to fully pre-made kits for those who may be less experienced and not quite sure what they need to get started. We also sell accessories to help repair or add new sections of fencing.
Cheap deer fences
made of polypropylene
Also called a poly deer fence, plastic fence, or Benner's fence, this type of fence is made of high-performance polymer that's both economical and safe.
This type of deer fence for the garden is best suited for areas where the look and view are more important, like suburban yards or public and community gardens. Small farmers especially like this type of deer fencing in situations where they'd like their crops, flowers, and trees to be easily visible to the public. Our Freedom Deer Fence is great for areas like small community gardens that are close to structures and face low to medium deer pressure.
Keep in mind that in order to be an effective deer fence, polypropylene must be at least 80 grams per square meter. Large properties and high-pressure areas will require 110 grams per square meter. This is where our Ultra Freedom Deer Fence is recommended for use.
When buying a deer fence engineered with polypropylene, be aware that there are some cheap imitations on the market that are not nearly as effective. 
At the end of the day, nothing beats a fence when it comes to keeping deer out of an area. Check out what deer fencing and costs we have to offer!