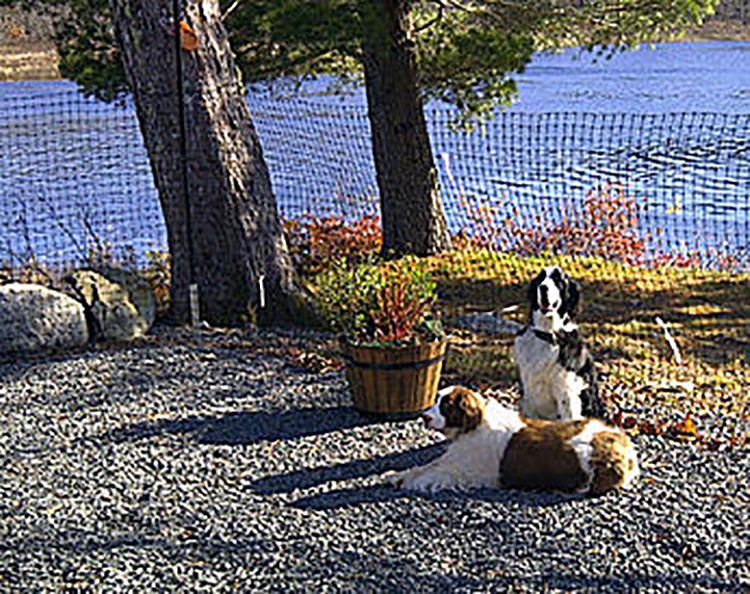 SAFE ENCLOSURE FOR YOUR DOG
Most pet owners want to have a safe, enclosed area for their dogs, but many people fear that adding a fence will take away from the beauty of their yard. Luckily, Dog Fence USA has a solution. We offer a visually appealing, durable dog fence barrier that safely keeps dogs within a designated area without the use of electricity, wires, or unattractive designs.
VIRTUALLY INVISIBLE STRENGTH
Imagine a dog fence that blends in so well with the surroundings that it can't be seen from a distance. Dog Fence USA's fences are virtually invisible, but strong and easy to handle. Even better, installation is a breeze. There's no electricity, meaning no nasty shock. What's more? Dog Fence USA's best fences for dogs are made from recycled materials!
Whether you want to create a custom enclosure with dog fencing for yard areas or choose one of our dog fence kits, we have everything you need to create a safe area for your dog to run and play. We offer high-quality yet cheap fencing for dogs, and our systems are specifically designed for maximum flex, strength, and durability.
The UV-treated dog fence can be attached to posts, to existing trees on your property, and more. Our dog fences and dog fence kits will not only keep your pets sage, but they will also keep other critters out of your property.
Contact us today to learn more about how our dog fences can work for you! Or, check out our product catalog to see what we have to offer.
Why Dog Fence USA's polypropylene material works best as garden fencing for dogs
There are different opinions about the best type of pet-safe fence. Such fences are usually made of wood, metal, or vinyl, with each material having its own benefits for a dog guard fence, cost concerns aside. But, when it comes to the risk-to-benefit ratio, you can't beat polypropylene fencing because:
Wood is expensive and requires constant upkeep, such as painting or staining. But due to its natural properties (expanding, contracting, trapping moisture), it won't hold up well to weather extremes. A wooden fence may turn into a warped, cracked disaster over a few seasons, while the paint may start chipping or peeling even sooner. Rot, fungus, and pests are other potential hazards turning wooden fences into objects of constant maintenance and repairs.

Metal fences don't come cheap, either, and require painting or protective coating as well as plenty of installation hassle. Chain-link fences are the most affordable option, but those who are looking to

buy dog fences

at the lowest cost are often in for a few unpleasant surprises. Some dogs use a chain-link fence to climb over and run off. On top of that, the metal may break and develop sharp edges when getting rusty, causing injuries.

Vinyl fencing is a low-maintenance option, but it requires a significant upfront investment and may become an eyesore rather than a solution. Many dog owners consider vinyl fences tacky-looking. 
Dog Fence USA's polypropylene fence material is extremely strong and durable but flexible and lightweight. It is resistant to weather damage and temperature extremes, storms, and heavy snow, making our dog guard fences cost-effective as they last significantly longer.
Build your own dog run with Dog Fence USA
With many exceptional benefits, Dog Fence USA's heavy-duty polypropylene fence is the best alternative to more expensive materials for garden fencing for dogs. Our products are a fantastic solution for any outdoor space if you want the lovely views, shrubs, flowers (and your dogs!) to be visible. You don't have to compromise that curb appeal for safety when building a dog run on your property.
Besides, the affordable dog fence for sale here is the #1 product for doing everything yourself without putting a strain on your budget. Choose from Dog Fence USA's easy-to-install kits to give your pup a special area to play while making sure your yard still looks and feels like one big open space. 
If dogs could talk, that would be the best gift they could ask for. But there's another way to make your canine happy. Buy the dog fence that has been proven to perform the best, enduring tough weather conditions, muddy paws, and jumping dogs.